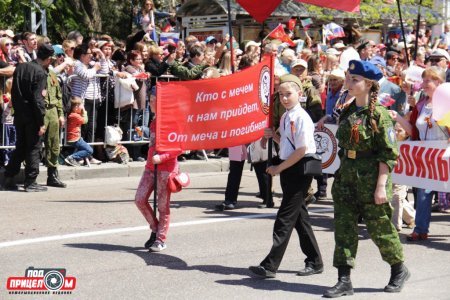 The May 9 parade has always been almost the main celebration for Sevastopol. There are a large number of visitors from Ukraine, Russia and other countries, who believe that one should visit it at least once in a lifetime.
By now, there are few veterans left alive, even children of war columns thinned out significantly. However, there are still a lot of people, who come to the parade, they still take places since 7 in the morning and still loudly exclaimed "Hooray!", "Thank you!", "Congratulations!" Exclamation "Russia!" became especially used and traditional within the last two years and there are even more of different variations of tricolored flags than St. George ribbons.
The official part of the parade was mostly limited by congratulations of Vladimir Putin. Elderly women from the crowd listened especially attentively, one of them even admonished a child: "Be quite, your president is speaking now!" The speech caused thunderous ovation. "Tut, when will the parade begin? I already called Vovka, gave him the go-ahead. Maybe, I should have asked Dima first?" two schoolboys joked, waiting for the parade.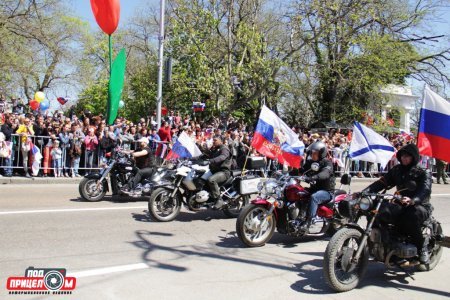 The procession began from passage of the servicemen of the operating units of the Russian Army. Military machines: armored infantry vehicles, launch vehicles "Grad" and other formidable combat vehicles and portable weapons demonstrating the military power drove after them. It was also possible to see parade of warplanes in the sky. Audience were actively applauding, exclaiming "Hooray", taking pictures and marveling: "Now it's clear, why Russia has won," said a 10 years old boy, filming the military parade with a cell phone.  
The journalists of Russian TV channels were another occurrence that ravished the audience. Some of the participants tried to attract attention to themselves especially persistently: they screamed and waved, shook hands with reporters and made selfie together with them. Then the storm of emotions shifted to bikers, who were welcomed as if they were heroes.
"The Immortal Regiment" turned out to be the most numerous column: together with flags adults and children carried portraits of their relatives who fought. They were also welcomed and congratulated, although not as actively.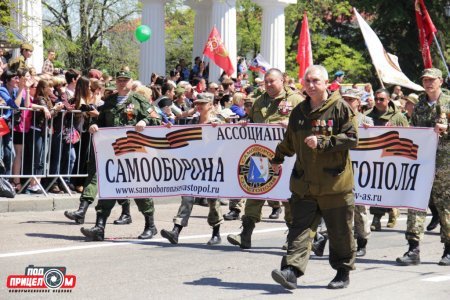 Still, overwhelming majority of people in the columns were not veterans or participants in military operations but their relatives in the best case, next to which there were people, whose reasons of participation in the parade are not completely clear. Perhaps, they were chosen for having a pinned St. George ribbon or flag of Russia in their hands (and also t-shirts from the collection of spring 2014 with letterings "the Russians do not abandon their countrymen", "the most polite one among people" and so on). Some of them accepted flowers gladly, congratulated and filmed the audience but other didn't seem to be happy about the position they were put into.
At the same time, Crimean militiamen had their hour of triumph. The attendance welcomed them very loudly, thanked them and speaking among each other were proud of "Defenders of Russia".
The parade ended by passage of political parties and organizations: "Russian Blok", "Russian Community", "A Just Russia" and "Great Motherland". People in the columns sang anthem of Sevastopol, military songs, yelled "We remember, we are proud" and the audience took initiative at once. The wide and numerous column of the Communistic party headed by the Stalin's portrait was also welcomed with enthusiasm.
Among this abundance of tricolored flags, praises of Russia, Communistic symbols and t-shits with image of Putin, the Crimean Tatar flag together with the flag of Crimea attached to the flagpole appear only once that turned out to be surprising for people. There were no Ukrainian flags at all.
Elderly women that returned to the home harbor were happy that a lot of youth came to the parade. They were rejoiced having seen schoolchildren caring portraits of the perished relatives, as it's very important that the rising generation remembers the deed of heroes. However, it's not enough to remember, it should be remembered well to prevent such a war again. It hasn't worked out so far. Maybe, all the audience, especially Crimeans, especially the young generation would be glad to prevent blood-spilling and ready to protect their motherland, but who would tell them what  they really have to protect and from whom? Time passes by, the columns thin out, veterans die, and all we have left is only the memory that can be easily manipulated and speculated. So easily that we do not even notice it at times.
Matvey Astafev